Grandpa's Lures: Week Three
The Brooks Reefer was my choice as the main lure for week three of the Grandpa's Lures series.
Tough Conditions Can Still Produce Nice Fish
By all accounts, the fishing was brutal this week. I mean, people were seriously grumpy. An extended high pressure system set in, there was little wind, and with water temperatures reaching summer highs, the fish were just not making it into anyone's boat.
So, given the conditions, I was reasonably happy with the results.
The Brooks Reefer I have is a floater and the jointed tail provides some serious wiggle action at a very slow retrieve. The lip causes the lure to dive down about two feet which is useful in areas where the weeds have not quite made it to the surface, or are thin enough to usually get pushed aside.
There are rings for a treble hook on both the bottom and the tail of the lure. I only put one on the tail, hoping to minimize hang-ups in the weeds, and this certainly helped but I also missed a couple of nice fish because of it.
Whether it was the fishing conditions or the grey colour of the lure, I don't know, but the only fish I managed to catch were five small northern pike.
For some reason, the larger ones that followed the lure in wouldn't take the plunge. This surprised me because the Brooks Reefer really moves around.
Because the fishing was so slow I also put the Canadian Wiggler back on a few times. In one instance, I was fishing off the shore and working it along some rocks as suggested by one of our readers, Uncle Zeee.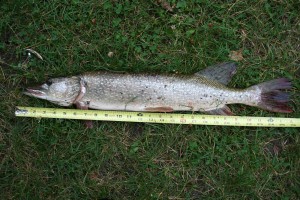 I was hoping to get a walleye for dinner. It was about 5pm and just as I was about to pack it up, this 26 inch jack (northern pike) bolted up and swallowed the Canadian Wiggler in less than 6 inches of water. The fish then made a hard run straight back out into the river.
It put up a great fight but unfortunately had taken the lure very deep, so I decided to keep it for dinner and cooked it up on the BBQ.
Written and photographed by: Andrew Walker
Go to the Northern Pike Fishing Techniques page.
Go to the Muskie Fishing Techniques page.