Groundhog Troubles?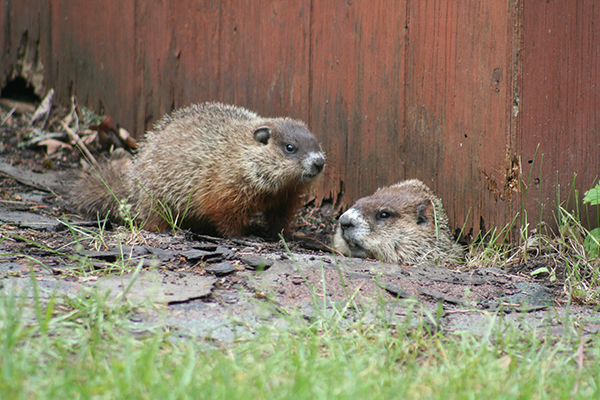 Watching young groundhogs (woodchucks) run around the cottage property can provide hours of entertainment, but these critters can also cause cabin owners some serious grief.
Should you get rid of groundhogs?
When I first bought my cabin, I didn't pay too much attention to the holes I noticed under the small shed I would eventually use to store my boat accessories and fishing gear.
The structure was old and it appeared to be stable, so I pretty much skipped over it when I inspected the property.
For about five years, I noticed a family of groudhogs would take up residence under the shed some time in June. The mother was quite large, and whether or not it was the same old gal that came back each year, or simply one of her daughters that took up the abode after Mom passed away, I'm not sure, but I must admit I spent a significant amount of time sitting on the front deck each season watching the year's batch of young ones play around the property.
It's a bit like watching kittens.
The groundhogs attempted to climb the oak tree, devoured clover, trimmed the dandelions, and scrambled on top of the old wooden bench that overlooks the water.
One year, the mother had five young ones to look after, and while they originally provided another sound session of entertainment at the beginning of the summer, the group soon became destructive pests.
Groundhogs like to dig; that's what they do, and this gang soon started to dig into anything that looked like fun.
New entrances and exit holes emerged under the storage shed to the point where the structure started to become unstable.
They also got into the french drain that channels water away from the cabin during a storm.
One ambitious youngster even dug a hole underneath the floor of the outhouse. Fortunately, the little explorer didn't make it so far that it fell into the privy, or at least, if it did, it managed to escape without terrorizing any of my family members or guests.
At that point, I figured this would have to be last year for the groundhog games and started to research the best way to encourage them to find somewhere else to call home for the summer.
As it turned out, they simply vanished the following summer.
A predator might have solved issue, or it could have been the extreme cold of the previous winter. Whatever the reason, the groundhogs have not returned, and although I'm happy no more damage is being done, I do miss seeing them run around the property.
Popular live groundhog trap
If you have to catch and relocate groundhogs, here is a popular trap that appears to do the trick.

Written and photographed by: Andrew Walker