Best boat to buy for a cottage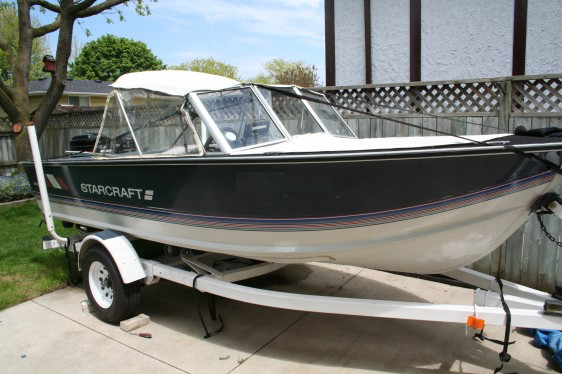 New cottage owners often have to buy a boat once they close the deal on the property. A number of things need to be considered when deciding which type of boat is best to buy for the new cabin.
Water conditions, boat use, and docking facilities all impact the type and size of the boat that will be ideal for your situation. Budget is also a factor.
Lake size and conditions
Big lakes are great for cruising, but they can also get very rough. In situations where the cottage is on an island or you need to cross large areas of open water it is important to have a boat that is big enough to handle rough weather. This means spending a bit more money, but it is worthwhile to ensure safety and reliability on the lake.
A small 16 foot open aluminum fishing boat, for example, isn't going to work as your primary boat at the cottage in most circumstances.
Aluminum or fibreglass
Hidden rocks, reefs, and submerged islands are common in cottage country. River systems and smaller lakes that see significant changes in water levels often have unmarked hazards. In these areas it is generally better to have an aluminum boat in the event you hit a rock.
Fibreglass boats are better suited for big lakes with lots of open water and no submerged structures near the surface.
Dock size and water depth
The length of the dock and the depth of the water at the dock often determine the size and type of boat you can buy. A cottage with deep water at the shore or a long enough dock will be able to harbour larger boats. Cabins with small docks and shallow or rocky conditions around the dock might only be able to accomodate a smaller boat.
Best types of boats for lakes and rivers
Several types of boats are popular for properties on lakes or rivers. Many cottages have two or more boats with each one used for a specific purpose.
There might be a bowrider, deck boat, or a pontoon boat for running back and forth from the mainland. A fishing boat could be used for catching dinner. On big water, cottagers might also have a ski boat and then a larger cruiser for doing long trips. Some cottages also have a sailboat.
The surge in boat prices in recent years has made it much more expensive to treat the family to a different boat for every activity on the lake or river. As a result, there needs to be some negotiation and compromise when buying the first boat for the cottage.
1. Bowrider
Cottaging veterans often recommend a bowrider, also referred to as a runabout, as the best boat to buy for cottage owners in most situations. It can serve as a reliable boat for general purposes and is also versatile enough to be used for fishing, or as a ski or wakeboard boat. This type of boat is popular with cottagers on both lakes and rivers and would be a good boat to buy as the primary boat for the cabin. Bowriders come with either aluminum or fibreglass hulls, so there are options for all situations.
2. Deck boat
A deck boat is similar to a bow rider and these days some designs make it difficult to tell the difference between a deck boat and a runabout. In simple terms, the deck boat provides more space, hence its name, particularly at the front of the boat. A deck boat might be a good choice if you are not sure whether a bowrider or a pontoon boat is the best boat to buy as your first cottage boat.
3. Pontoon boat
A pontoon boat is another good multi-use boat for cottages. The stability of the boat makes it ideal for running back and forth from the mainland with supplies if you have an island property. A pontoon boat is good for lakes and rivers and can serve as a fishing boat, as well as being a comfortable boat for taking a leisurely cruise. It is generally not ideal, however, for cottagers looking for speed or those who need a powerful ski boat.
Pontoon boats come with covers to provide protection from the rain and can be opened up on nice days.
4. Fishing boat
A pure-play fishing boat, often referred to as a bass boat, tends to have a powerful motor and is designed for ripping around the lake to maximize fishing time. The boat is stable and versatile for getting into shallow areas to access fish. While the fishing boat might be flashy and a great bonus for the cabin, it is generally not the best boat to buy as the primary boat for a cottage.
Hybrids are available in the market where the fishing boat has some characteristics of a runabout and is also equipped with a pole mount to pull water skiers or wake boarders.
5. Ski and wakeboard boat
The boat industry knows how to tailor products for specific interests. This is particularly the case with ski and wakeboard boats. Manufacturers design the boat's hull to produce the best wake and the boat has an inboard motor. This type of boat is a lot of fun, but would probably go in the category of "cottage toy" as opposed to a must-have for the cabin.
6. Cabin cruiser
A cabin cruiser is a big boat that costs big bucks. If you are fortunate enough to have the money to spend on a cabin cruiser it is a great option for cottage owners who have properties on large bodies of water. The cabin cruiser is used for long trips and normally comes with a sleeping area, washroom, and even a small kitchen in some cases.
7. Sail boat
Sail boats are not typically associated with cottages, but that doesn't mean a cottage can't have one. Small sail boats are popular in areas where the cottage has access to good sailing conditions. Serious sailing types, however, often use their sailboat as their cottage and spend most of their free time in the summer sailing with their local clubs.
Buying a new boat for the cottage is a big decision and it makes sense to take the time to plan the purchase with the entire family. Current and future use should be considered. If a new boat is too expensive, it might be possible to buy a good used boat to get started.