10 Ways to Work from the Cottage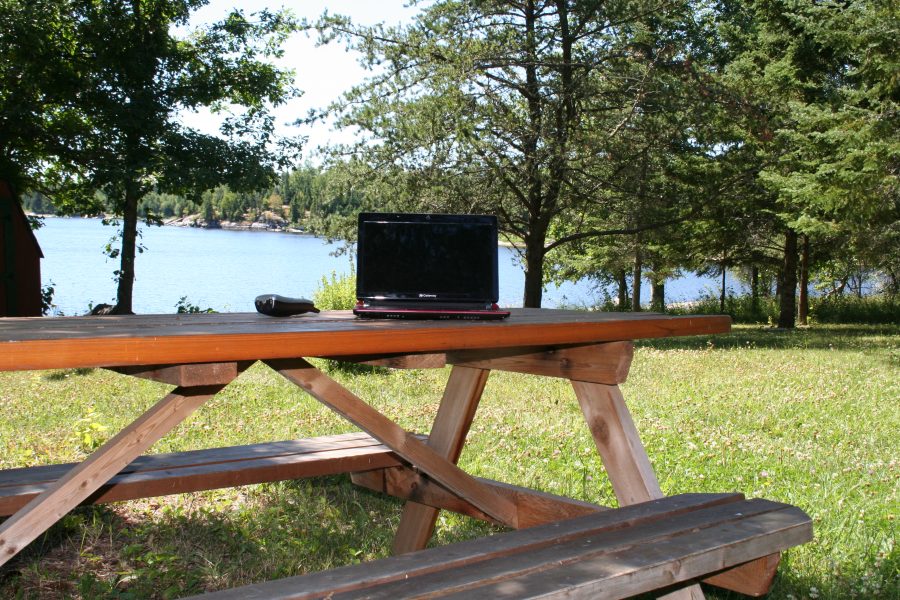 Cottage owners would love to work from the cabin. The pandemic has made this possible for those who can telecommute on a permanent basis, but many people don't have that option.
Here is a list of other ways you can potentially retire early and still work and earn money from side gigs while living at the lake house.
Top 10 ways to live and work at the cottage
Living and working at the summer retreat is a dream come true, but how can we make it happen?
The key to working from the cabin is deciding what skills you have that can be tapped to earn money. These can be related to your profession, developed through a hobby, or simply acquired after years of cottaging.
Fortunately, satellite internet access is widely available at even the most remote locations. This greatly increases the options to live and work at the cottage.
1. Be the maintenance man
Offer your services to the other cottage owners on the lake.  Basic maintenance such as cutting the grass, weeding the garden, splitting firewood or painting the tool shed are all things that need to be done, but require time that many people living in the city just can't spare. This is a great option for a cottage handyman who enjoys doing this type of work.
Cottage opening and cottage closing services are also always in demand.
2. Be a local guide
Tourists and cottage renters all need help.  Whether it's helping to locate the fishing holes, navigating the hidden reefs and islands, hiking the local trails, or evaluating a property for sale, there is always demand for a local expert to provide assistance. If you have owned your cottage for a number of years, you may be the perfect person for the job.
3. Write a book
Do you have a talent for writing but never had the time to start your novel?
The cottage is the place to make it happen. We never know unless we try. Self-publishing through online stores has made it possible for every writer to make his or her work available to the world. Many best-sellers start out this way.
4. Make cottage handicrafts
The cottage is the perfect place to be creative.
Woodworking, quilting, and creating handicrafts are all fantastic options for unleashing your inner artist.  The money earned by selling artwork at the local market during the cottage season may cover the costs of retirement living at the lake. You will certainly meet interesting people and could even discover that your creations are in high demand for cottage decor.
5. Become a cottage bed and breakfast
If you love to entertain and you are looking for a way to finance an early retirement at the cottage, why not set yourself up as a cottage Bed and Breakfast. It takes careful planning and consideration, but this may be the most rewarding decision you will ever make at the lake.
6. Create a local cottage blog
Running a website or writing a blog for your local cabin community is the perfect activity for working from the cottage.  By the end of the first season you could have a following of loyal readers and local businesses may be willing to pay you for advertising their products and services.
7. Work as an online consultant
You have built up an expertise in a particular field, and now it's time to set up a consulting service and run it from the cottage using a video conferencing platform. Schedule meetings to work around your fishing time.
8. Trade stocks or currencies
This should only be undertaken by people who are already familiar with these activities.  If the stock markets or currency markets are your passion, trading stocks at the lake is much more comfortable than sitting in an office tower.
9. Provide cottage delivery or catering services
Start a delivery service for other cottage owners. This could be for groceries, fishing supplies or even transporting guests and renters from the mainland to an island cabin.
Do you love to cook? Why not set up a catering service for parties and family events around your cottage neighbourhood.
10. Sell real estate
Become a real estate agent for your lake. The best cottage real estate agents are always people who actually live in the same area they are selling. You probably know your cottage community very well. Now you can use this expertise to help other people buy or sell cabins nearby.
The bottom line on how to work from the cottage
Working from the cottage might require a leap of faith and a reduction in income, but you can figure it out and enjoy the life you have always wanted at the lake.
Check out the Leisure Activities page.